Barbie 2002
Barbie 2002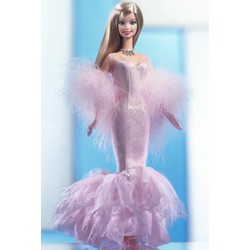 Special Occasions 2002
Stock Photo. Excellent box.
This makes a fabulous commemorative gift for someone born in 2002!
Product Details
Dressed in a sensational pink glittery fitted gown with dramatic ruffles and a flared hem of ruffles and feathers, Barbie® celebrates the year 2002. Her outfit comes with a coordinating pink marabou stole, full-length pink gloves, and pink high heel shoes. Accessories include silvery stud earrings, and a matching necklace that reads "2002".