Barbie Watch – Bradley Time/Mattel 1971
Barbie Watch – Bradley Time/Mattel 1971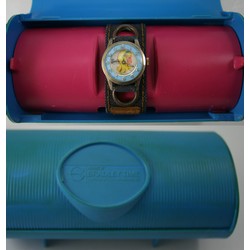 Swiss made watch in original case, circa 1971.
Made by 'Bradley Time" for Mattel.
Features the sweetest graphic of a blonde Barbie with a blue head band on the face of the watch. Denim strap with leather detail patch.
The watch looks great but it doesn't seem to 'wind' any more. I'm not sure if I'm doing it wrong or if it's broken.
Original case is missing the cardboard product advertising.
This set would have included 2 additional straps (missing).
There is some yellowing on the top of the blue case, which I suspect is glue residue.
Product Details