Dressmaker Details Acc
DDC Shoe Pak - Bonus Slings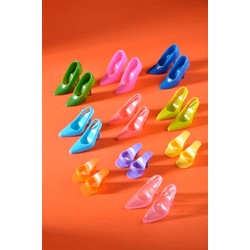 Includes 9 pair of gorgeous, bright, vivid shoes PLUS a bonus pair in a special shade of translucent pink with silver glitter!
Colors inspired from the Barbie shoe paks of the late 1960's – including colors from the very rare "Shoes Galore" & "Barbie Shoe Bag" from 1970.
3 pairs of open-toed mules, 3 pairs of sling back pumps and 3 pairs of classic spikes plus the bonus shoes that fit Vintage, Silkstone, Model Muse and Play-line Barbie, Dynamite Girls, Fashion Royalty and most other 12" fashion dolls.
Product Details