Equestrienne Barbie and Her Horse Dancer Mint in Box
Equestrienne Barbie and Her Horse Dancer Mint in Box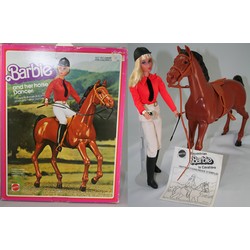 This box set was sold only in Canada. It is considered rare and extremely hard to find in the box.
This set is amazing and complete including the silver Mattel wrist tag (although it has been removed and put back on the doll) and the hard-to-find little black riding crop!
Everything appears to mint, other than a few little scuffs on the horse from sliding around in the box (nothing serious at all). The box has some wear but the graphics are bright, clean and gorgeous.
The doll, horse and accessories were made in Taiwan, but the box was made and printed in Canada!
A truly rare find to add to your collection!