Francie SL Blonde in SwimSuit (05)
Francie SL Blonde in SwimSuit (05)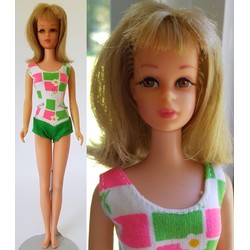 #1130 Circa 1966-1967
Face – Great face with nice lip paint, blush and lashes.
Hair – Full and still has some curl on the ends but is a bit messy.
Body – Arms have lightened just a teeny-tiny little a bit. Just a few very tiny pinpricks on legs.
Wears original 2 pc swimsuit (mint condition) Stand not included.