Friday Night Frug Poppy Parker™ Dressed Doll
Friday Night Frug Poppy Parker™ Dressed Doll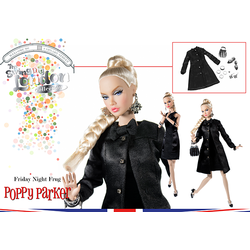 Edition Size: 825
Head Sculpt: Poppy Parker
Body: Poppy 1.5
Foot Sculpt: Traditional Poppy Feet with Articulated Ankles
Skin Tone: FR White
Hair Color: Platinum
Eyelashes: Yes, Hand-applied
Quickswitch: No
Product Details
Poppy outshines the top British celebrities at one of London's most affluent clubs, where the entire "who's who" of the time would go to be "seen". It's so easy when you are Poppy Parker to outshine every star!
Poppy Parker is a 12-inch fully articulated fashion doll with perfectly rooted hair and hand applied eyelashes. She wears a stylish knee-length satin overcoat over a perfectly tailored little black dress. With her sleek hair styled in a swanky braided ponytail and the rest of her look accessorized "just right", she fits right in with the top British models and celebs of her time!
For adult collectors ages 15 and up only. This doll cannot stand alone; a doll stand is included.