Hauntingly Lovely Ayumi Nakamura Close-Up Doll
Hauntingly Lovely Ayumi Nakamura Close-Up Doll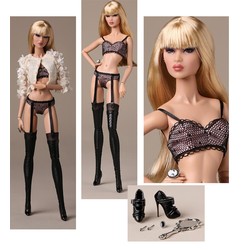 Edition Size: 825
Estimated Delivery: Fall/Winter 2017
10% deposit required
Ayumi is a 12.5 inch articulated fashion doll with rooted hair. She comes dressed in a luscious lingerie set, coupled with a delicious little knitted cardigan that features perfectly scaled petals all over the sleeves. Ayumi comes complete
Product Details
Doll Tech Specs:
Head Sculpt: Ayumi 3.0
Body: NF 3.0
Foot Sculpt: High-heeled
Skin Tone: FR White
Hair Color: Baby Blond
Eyelashes: Yes, Hand-applied
Quickswitch: No
Ayumi Nakamura loves to blend her style with her friend Nadja's and the two have been seen modeling for one of the top lingerie designers on the planet. Since they love contrasts, Ayumi wears a delicate cream-colored petal embroidered cardigan over her own devilishly amazing lingerie set, while she brushes her lovely tresses, waiting for her turn to go in front of the camera.
Ayumi is a 12.5 inch articulated fashion doll with rooted hair. She comes dressed in a luscious lingerie set, coupled with a delicious little knitted cardigan that features perfectly scaled petals all over the sleeves. Ayumi comes complete with her mother's cameo ring and heirloom silver plated hand-held brush and leather shoes. For adult collectors ages 15 and up only. This doll cannot stand alone; a doll stand is included.
NOTE: Prototype doll and fashion shown, final production colors and textures may vary slightly.