Lizzie Jan McLean Doll
Lizzie Jan McLean Doll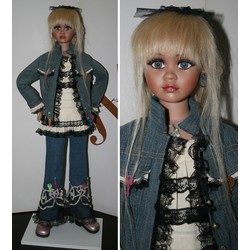 Kiss Collection of 2003 Limited to only 494 worldwide.
31" / 78 cm Jan McLean vinyl Realistic/Lifelike artist doll made in New Zealand.

Doll has been on display but has been neatly put back into original box. The doll looks mint except for the off white blouse – there are several faint marks would look like age spots. Jacket covers for the most part. Missing certificate. Additional shipping may be required for this item.
Product Details
Lizzie is the envy of all her friends. She has metallic pick leather boots, embroidered jeans with black lace trim and her denim is decorated with little enamel keys and edged with black and cream lace. She has eyes of blue glass and blonde human hair tied up with soft black tulle.