Marie Laveau Dressed Doll
Marie Laveau Dressed Doll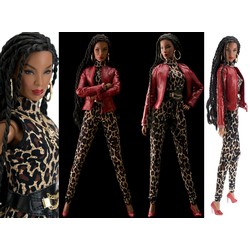 American Horror Story Coven™ The Official Collectible Doll Series
Limited Edition of 600 Dolls Worldwide
Portrayed by famed actress Angela Bassett, Marie Laveau is the Voodoo Queen in American Horror Story: Coven™.
Marie Laveau is a 12.5-inch fully articulated fashion doll with fully rooted hair and hand-applied eyelashes. She comes dressed in her modern leopard print suit and blood red leather jacket look, accessorized with large hoop earrings, her exclusive snake pendant necklace, shoes, and a doll stand. Recommended for adult collectors ages 15 and up.
Product Details
Doll Specs:
Head Sculpt: Marie Laveau (New Sculpt!)
Body Type: FR2013
Skin Tone: FR Black
Hair Color: Black
Eyelashes: Yes, Hand-Applied
Quickswitch: No
Leader of the coven's most powerful rivals in the Dark Arts and well known throughout New Orleans for her unnatural power and abilities, her status in the Voodoo practice is equivalent to that of the Supreme Witch.

Marie Laveau's youth has stood the test of time. Despite being alive during the 1800s, almost 200 years later she is still living and shows no obvious signs of ever aging.

Ageless, timeless and forever unforgiving, Marie Laveau will stop at nothing to bring death and destruction to any and all who dare harm her people.
Note: The pictures contained in this email show the prototype and the final doll may vary slightly.