Now and Then 50th Souvenir Barbie
Now and Then 50th Souvenir Barbie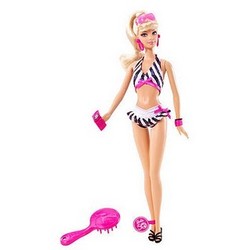 Stock Photo. Good Box.
Promotional type doll that was released in Feb 2009 to celebrate Barbie's 50th Birthday.
Product Details
The popular Bathing Suit Barbie doll of 1959 is re-created for 2009! Barbie doll wears her classic ponytail and striped swimsuit in a modern two-piece style, and includes a cell phone and sunglasses as must-have accessories! She has a Barbie 50th tag around her ankle.