Co-Ed Cutie Poppy Parker Doll
Co-Ed Cutie Poppy Parker Doll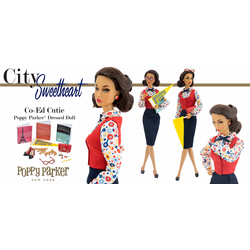 Approx. Ship Date: August (date subject to change)
Edition Size: 900
10% Deposit Required
Being a top teenage model is one thing, but getting a good college education was imperative to get ahead in life and no matter how busy her modeling career got, Poppy Parker never skipped a class! Always a model student, our girl was easily recognized as the campus "brainiac" who could achieve anything she set her mind to! No matter the subject, Poppy tackled every lesson with enthusiasm, easily outsmarting everyone and graduating university with honors... and style!
Product Details
12" fully articulated doll with fully rooted hair and hand-applied eyelashes
Fashion (mid-knee pencil skirt, custom printed blouse, and fitted sleeveless vest)
Cat-eye glasses
Clutch purse
Nylon stockings
High-heeled shoes
Earrings, cuff bracelet, and watch
Alternate pair of hands
Doll stand
Bonus Accessories: school pennant, "pencil" and "books"!
The doll pictured is a prototype. Final fabrics, colors and textures may vary slightly. For adult collectors ages 15 and up only.
Head Sculpt: Poppy Parker
Body Type: Poppy 1.5
Foot Sculpt: High-heeled
Skin Tone: New Hispanic
Hair Color: Dark Brown
Eyelashes: Yes, Hand-applied
Quickswitch: No