Rendez-Vous Fashion on PR Gene Doll
Rendez-Vous Fashion on PR Gene Doll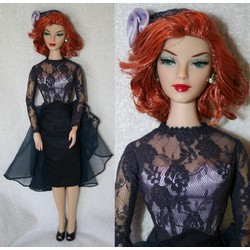 Fall 2007 Gene Fashion by Integrity Toys.
LE 250. #92033.
A very special offering! This is the actual doll used in the PR photo for the Rendezvous fashion. The doll was styled by Integrity for the photo shoot (doll was not available for sale).
The original owner won this doll (in a raffle I think) but it is missing the purse and tennis bracelet.
Product Details
Rendezvous is a sleek cocktail ensemble featuring the allure and illusion of lace over satin. A sweetheart neckline bodice of pale violet satin is revealed beneath the fitted, long-sleeved top of midnight blue lace. A narrow, just below the knee length skirt of midnight satin comes to the point in a high, fitted waistline and is accentuated by an open, draped overskirt of matching lace over tulle. The accessories include a floral-trimmed turban of lavender satin, wrapped in deep blue lace. The jewels are 'diamond' drops at the ears and a double-strand 'diamond' bracelet at the wrist. The purse is a small clutch in midnight satin and matches the 'patent leather', open-toed sandals. It would be hard for one to keep a rendezvous secret if one is dressed for it as daringly as this.