Skipper TNT Brunette (A)
Skipper TNT Brunette (A)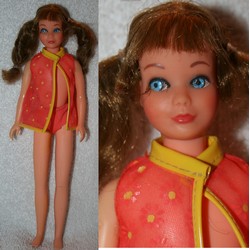 Cute face with fabulous face paint but is missing most of her lashes.
Hair looks okay but a couple of hair plugs are thin. Still has some curl in the pigtails but ends of the hair could use some re-curl.
One knee is broken with a small tear in vinyl. A couple of pin prints on legs. Otherwise nice.
Product Details