Susy Goose Barbie Wardrobe BOX
Susy Goose Barbie Wardrobe BOX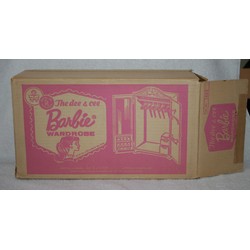 #1463. 1962.
Box for Barbie's Suzy Goose Wardrobe. This box is from Canada and is labeled "The Dee & Cee Barbie Wardrobe". The wardrobe inside however was the Susy Goose product with the Susy Goose name in the plastic mold (same as the US version).

Front Bottom of Box : "Made in Canada by dee & cee toy co. limited. A Division of Mattel Inc. Under License to Kiddie Brush and Toy C. Jonesville, Mich.

Bottom of Box: St. Mary's ON

Box has a little wear but the front looks fabulous (great for display). There is what looks like dark brown glue streaks, on the back.
Product Details