Sweet 16 Barbie (B)
Sweet 16 Barbie (B)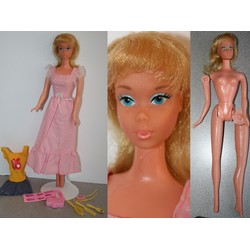 Great body, all arms and legs move.
Soft hair and a pretty face. One arm is broken but it stays on the doll pretty good (you can glue it if you want). One leg is off and we'll leave it up to you if you want to glue it back on. (Attached arm and leg still move.)
Includes promotional extra fashion (shorts and tank top). Also includes make-up compact, brush, comb, applicator, 2 barrettes and 1 sticker sheet (as shown in photo).