World At Her Feet Poppy Parker Doll
World At Her Feet Poppy Parker Doll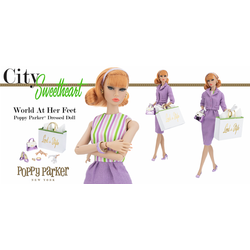 Approx. Ship Date: Mid-September (date subject to change)
Edition Size: 900
10% deposit required
No sooner did Poppy Parker land at JFK after her first European tour, that the word that she was back in town spread like wildfire! Major American designers of the time did everything they could to outbid one another, each offering Poppy more glamorous, ultra-tempting contracts, all having high hopes of adding her youthful looks to their latest ad campaigns. Everyone wanted a little "Poppy Parker Star Power" on their side, knowing full well that everything the teen idol touched turned into an immediate success! Poppy definitely had the world at her feet!
Product Details
12" fully articulated doll with fully rooted hair and hand-applied eyelashes
Fashion (knee-length dress suit with printed stripe shell bodice and matching jacket)
Painted on gloved hands (NEW! Sculpted glove detail hands!)
Alternate pair of hands (normal flesh tone)
Bracelet and earrings
Nylon stockings
Shoes
Handbag
Shopping bag accessory
Doll stand
The doll pictured is a prototype. Final fabrics, colors and textures may vary slightly. For adult collectors ages 15 and up only.
Head Sculpt: Poppy Parker
Body Type: Poppy 1.5
Foot Sculpt: High-heeled
Skin Tone: FR White
Hair Color: Light Red
Eyelashes: Yes, Hand-applied
Quickswitch: No