Allan Doll in Box
Allan Doll in Box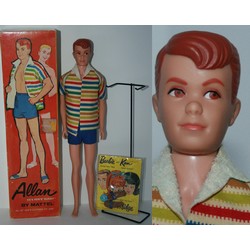 #1000. Circa 1964.
Includes excellent doll with original fashion, sandals, booklet and stand.
Box is bright with fabulous graphics - there is a little bit of wear and tape on bottom corner seam (it's old tape that has yellowed and almost matches box color). Front of box has a price sticker on it that someone had tried to remove. The back of the box has, what looks like the same sticker, on it that says Zeller's $2.99 - rather cool!
Overall very excellent doll/box.
Product Details