Black Cocktail Dress Fashion (Audrey Hepburn)
Black Cocktail Dress Fashion (Audrey Hepburn)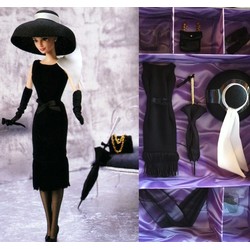 FASHION ONLY, doll is not included.
Good box.
Part of the Audrey Hepburn Collection.
Product Details
Black Daytime Ensemble for Barbie doll as Holly Golightly in Breakfast at Tiffany's. The outfit is worn in the movie when she rushes to visit Sally Tomato in prison. Looking vert sophisticated in large sunglasses, a chic little black cocktail dress, long gloves, and a hat with flowing scarf.