Checks and Balances Elias Veiga
Checks and Balances Elias Veiga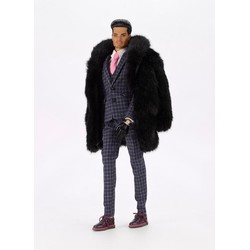 Checks and Balances
Elias Veiga™ Fashion Figure
The Monarchs™ Homme Collection
Product Details
The Story:
Heir to one of New York's largest real estate empires, Elias Veiga is used to seeing his name on buildings all over the world, but what few people actually know is that this billionaire entrepreneur is invested in much more than just buildings, he's also heavily involved in various communities around the world, always helping others raise up and live the best life that they can. With his seductive smile and polished look, Elias is always welcome with open arms, wherever he goes!
Included:
Latest generation 12.5" / 1:6 scale fully articulated male body that can be taken apart, featuring removable hands and feet for easy dressing;
Pair of gloved hands;
Alternate pair of regular hands
Combination rooted and flocked hairstyle;
Meticulously crafted, multi-layered outfit composed of plaid three-piece suit (with high-contrast lining), a fashionable faux-fur jacket and a perfectly combined shirt and tie;
Faux-snakeskin shoes with contrasting sole detail;
Faux-leather wrist watch;
Figure stand;
Certificate of authenticity.