Color Clash Alysa Doll
Color Clash Alysa Doll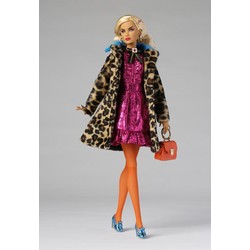 Edition Size: 725
Head Sculpt: Alysa 3.5
Body Type: THE INDUSTRY™
Foot Sculpt: High-heeled
Skin Tone: New Hispanic
Hair Color: Light Blonde
Eyelashes: Yes, Hand-applied
Quickswitch: No
Product Details
The Story:
Famed top model Alysa has had a successful career at Integrity Toys and time has come for the next chapter in her exciting life with her introduction into THE INDUSTRY Collection!
Deciding to explore her musical side wasn't easy for this naturally shy lady, but always beating the odds, Alysa is ready to hit the stage and follow her friends Janay and Jade in another one of their amazing adventures. A style icon of her own, Alysa is ready to put her look into Rufus Blue's hands, just in time for the launch of "The IT Girls" first album launch! With a killer new look, their golden voice and vibe, this one's a winner for sure!
Included:
12-inch fully articulated fashion doll with rooted hair and hand-applied eyelashes;
Metallic lamé dress;
Leopard print coat;
Orange tights;
Metallic blue loafers;
Handbag;
Barrette, earrings and ring;
Doll stand;
Certificate of authenticity.
The doll pictured is a prototype. Final fabrics, colors and textures may vary slightly. For adult collectors ages 15 and up only.