Eve Kitten Paisley Doll
Eve Kitten Paisley Doll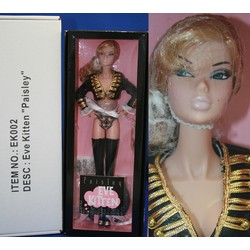 Eve Kitten Collection 2006
Integrity Toys
LE 500
Based on the artwork of Nancy Bacich Eve Kitten is a very Sexy Super Hero who does her good deeds in lingerie. Eve Kitten Paisley is 12 ½" tall. She comes with an Eve Kitten mini comic book in her box.
Mint with shipper box.
Product Details