Feelin' Extra Jade Doll
Feelin' Extra Jade Doll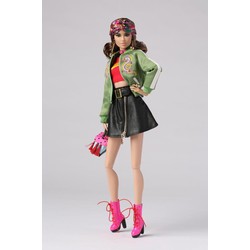 Edition Size: 725
Head Sculpt: Jade 3.0
Body Type: THE INDUSTRY™
Foot Sculpt: High-heeled
Skin Tone: FR White
Hair Color: Brown Mix
Eyelashes: Yes, Hand-applied
Quickswitch: No
Product Details
The Story:
When she heard the rumor that her long-time friends Janay and Alysa were working on a music record, Jade immediately called and told them she wanted in, since after all, she too was an "IT" girl!
Celebrating the return of one of the characters that started it all for Integrity Toys, THE INDUSTRY is proud to incorporate another cherished classic doll to its lineup... Jade! With her always "out of the box" look and delightful personality, Jade can't wait for the world to see her hot new look and hear their new hit record for the first time!
Included:
12-inch fully articulated fashion doll with rooted hair and hand-applied eyelashes;
Bomber jacket;
T-shirt
Pleather mini skirt;
Calf-length lace-up boots;
Purse;
Head band;
Earrings, ring and choker collar;
Sunglasses;
Doll stand;
Certificate of authenticity.
The doll pictured is a prototype. Final fabrics, colors and textures may vary slightly. For adult collectors ages 15 and up only.