Flocking Gray
Flocking Gray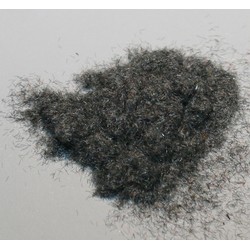 All you'll need is clear drying craft glue and a paint brush. There is enough flocking in the container to do a number of dolls. Perfect for full head restoration, spot restoration, mustaches, sideburns, etc.
Instructions:
Make sure that the head, or area to be flocked, is clean.
Using a fine paintbrush, paint 'Clear Drying Craft Glue" to the area you want to flock.
Holding the head over a bowl, gently pour flocking evenly onto the glued area. Or you can pour the flocking onto a small plate or bowl and gently roll the head into the flocking.
Gently tap the head to ensure that the loose flocking is removed.
Pour excess/unused flocking back into the container for future use.