Francie BL Blonde Nude (1130-11)
Francie BL Blonde Nude (1130-11)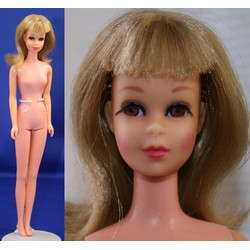 #1130 Circa 1966-1967
Face – Small little chip on lip paint, otherwise pretty face
Hair – Hair is soft and nice but ends are a little frizzier than normal.
Body – Body looks great at first glance but one arm is swingy and there is a small split on the back of one knee (both knees bend and click though). A few chew (?) marks on the leg and a tear in the vinyl on one ankle.
Nude as shown. Stand not included.