Fresh Wear Declan Wake
Fresh Wear Declan Wake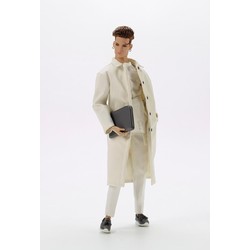 SOLD OUT
Fresh Wear
Declan Wake™ Fashion Figure
The Monarchs™ Homme Collection
Product Details
The Story:
Genius tech engineer, this Berkeley graduate invented a brand new AI system that will revolutionize the way we interact with computers for years to come! Declan Wake is what everyone loves to refer to as "Beauty with Brains". Handsome like no other, Declan Wake is as comfortable posing for a magazine cover as he is working on the latest tech gadget for a high-profile mega-corporation!
Included:
Latest generation 12.5" / 1:6 scale fully articulated male body that can be taken apart, featuring removable hands and feet for easy dressing;
Additional alternate pair of hands (not shown);
Combination rooted and flocked hairstyle;
Meticulously crafted, multi-layered tone-on-tone outfit composed of a long rubberized "lab" overcoat, sleeveless shirt with removable faux-knotted sleeve belt and matching pants;
Ultra modern, sneaker/loafer combo shoes ;
Faux-elephant skin tech clutch bag;
Mini-hoop earrings and two rings;
Figure stand;
Certificate of authenticity.