Jean Therapy Tobias Alsford
Jean Therapy Tobias Alsford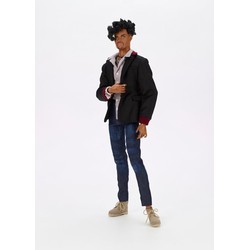 Jean Therapy
Tobias Alsford™ Fashion Figure
The Monarchs™ Homme Collection
Availability: Summer 2019
Product Details
The Story:
Tobias Alsford is fast becoming one of the highest-paid movie producers in Hollywood. Always exploring new and interesting genres, Tobias makes it a point to make sure that actors of all ethnic backgrounds get a fair shot at some of the most coveted roles in his films. With some of Hollywood biggest blockbusters now in his portfolio, Tobias is one of the most sought after directors in Hollywood at this time, not only for his fame, but for the fact that he's actually a really nice guy that everyone wants to work with!
Included:
Latest generation 12.5" / 1:6 scale fully articulated male body that can be taken apart, featuring removable hands and feet for easy dressing;
Additional alternate pair of hands (not shown);
Combination rooted and flocked hairstyle;
Meticulously crafted, multi-layered outfit composed of a contemporary jacket, accented with contrasting knit at the lapel, cuffs and waist, a plaid shirt, a heather colored t-shirt and intricately constructed, distressed jeans;
Faux-suede desert boot;
Two-toned faux-leather shoulder pouch/bag;
Three necklaces;
Faux-silver cuff bracelet and two rings;
Figure stand;
Certificate of authenticity.