Lunch at 21 Victoire Roux™
Lunch at 21 Victoire Roux™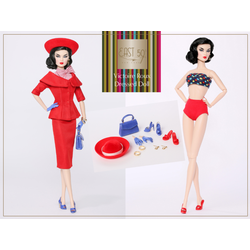 WAIT LIST ONLY
PLACE YOUR ORDER AND YOU WILL BE ON A WAITLIST.
Edition Size: 500 Dolls Worldwide
When Lady Aurelia Grey told Laird Drake that she wanted to begin work on a fabulous paper doll book, Laird jumped at the occasion and decided to go all out to promote the upcoming release by commissioning life-sized looks based on Aurelia's colorful drawings! Aurelia's friend Victoire was thrilled to join in on the fun and was more than happy to model one of the key looks of the collection just in time for the publicity tour!
Product Details
Head Sculpt: Victoire 2.0
Body Type: East 59th
Foot Sculpt: High-heeled Foot
Skin Tone: Japan
Hair Color: Raven
Eyelashes: Yes, Hand-applied
Quickswitch: No
Included:
12" fully articulated doll with rooted hair and hand-applied eyelashes;
Fitted sleeveless day-dress with oversized bow detail at the neckline and perfectly matched bright red 3/4 sleeve jacket;
Alternate two-piece swimsuit (for that "paper doll" look!);
Blue faux-leather handbag;
Pair of "golden" earrings;
Two "golden" cuff bracelets;
Red velvet flocked Breton hat with high-contrast ribbon detail;
Pair of blue satin high-heeled slingback open-toe shoes;
Pair of simple red high-heeled open-toe shoes;
Alternate pair of short painted-on "gloved" hands;
Stand;
Certificate of authenticity.
Final fabrics, colors and textures may vary slightly. For adult collectors ages 15 and up only.