My Scene Daily Dish Café
My Scene Daily Dish Café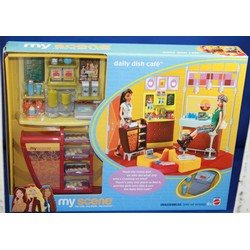 A must-have for your doll display! What an amazing set!
My Scene 2003
Fabulous coffee café set with tons of accessories for Barbie and similar sized dolls.
Includes Pastry Display, Coffee Stand, Coffee Bar, Coffee Maker, 2 Stools, 2 Lounge Chairs, Coffee Table, 8 Coffee Bags, Coffee Bag Holder, 2 Coffee Mugs, 2 Pair Expresso Mugs w/Saucers, Sugar Bowl w/Spoon & Lid, 2 Cream Pitchers, 2 Cups, Tip Jar, Coffee Pot, Tray, 4 Pastry Trays, 2 Newspapers, Cash Register, 2 Lap Tops, Napkin Dispenser.
Great Box.