Nirvana Dominique Doll
Nirvana Dominique Doll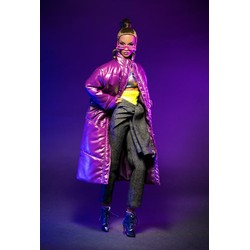 Edition Size: 950
Head Sculpt: Dominique 2.0
Body Type: NU. Face 3.0
Foot Sculpt: High-heeled
Skin Tone: FR Black
Hair Color: Dark Caramel
Eyelashes: Yes, Hand-applied
Quickswitch: No
Product Details
The Story:
The production's designers came up with a fun, completely out-of-the-box look that only Dominique Makeda could pull off for her part in the role of the fashionable goddess who was meant to give her blessings to the young ingenue of the story.
Full of self-confidence, Dominique opted to go off on a tangent and play her part with defiance and bravado, instead of being stoic and demure like the script called for. So much so, that the director had to call cut a few times in an attempt to reel Dominique "back-in", begging her to stay on script. Thankfully, Dominique's instincts paid off and her memorable performance is still talked about today!
Included:
12.5-inch fully articulated doll with fully rooted hair and hand-applied eyelashes;
Long over-sized puffy coat (dark berry color);
Satin top with neon colored -digital print art;
Dark jean pants with attached neon green leather corset, sleeve wrap detail and pierced sleeve detail;
Short "patent leather" boots with glitter detail;
Star/moon/third eye jewelry (asymmetric earrings, layered bracelets with stars/moons);
Bright pink slim sunglasses;
Pale violet purse with spike stud detail;
Doll stand;
Certificate of authenticity.
The dolls pictured are prototypes. Final fabrics, colors and textures may vary slightly. For adult collectors ages 15 and up only.