Turquoise Sparkler Evelyn Doll
Turquoise Sparkler Evelyn Doll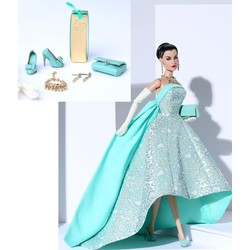 Approx. Ship Date: September
Edition Size: 500
10% Deposit Required
Head Sculpt: Evelyn Weaverton
Body Type: E59 1.0
Foot Sculpt: High-heeled
Skin Tone: FR White
Hair Color: Raven
Eyelashes: Yes, Hand-applied
Quickswitch: No
Product Details
The Story:
When Evelyn heard that Victoire Roux would be joining the team at Laird's agency, she wasn't too pleased, but it didn't matter; a sophisticated woman of her time would never let her disappointment show through. Her facade remained icy cold as she carefully calculated her next moves.
Albeit not known to her at the time, it was simply impossible to hate Victoire Roux, since let's face it, her stunning beauty and gentle soul had managed to win over even the biggest despots on Earth at one time or another. In reality, as soon as the pair first met, Evelyn's jealous streak melted to leave room for the birth of a deep friendship that would outlast their tenure at the agency, finding the pair retelling the story (and still laughing many years after the fact) of the empty box Ev gave Victoire as a welcome present on the evening of her arrival!
Included:
12-inch fully articulated fashion doll with rooted hair and hand-applied eyelashes;
Cream and turquoise brocade ball gown;
Gold tone earrings with turquoise "stone" and necklace;
Turquoise faux-leather clutch purse;
Long cream faux-leather gloves;
Turquoise faux-leather pumps with bow details;
Empty gift box accessory;
Doll stand;
Certificate of authenticity.
The dolls pictured are prototypes. Final fabrics, colors and textures may vary slightly. For adult collectors ages 15 and up only.