Cruz, Holland & TJ Dolls - Dynamite Girls - London Calling
Cruz, Holland & TJ Dolls - Dynamite Girls - London Calling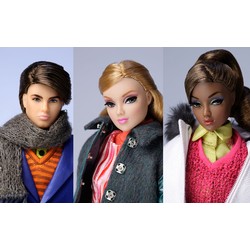 Estimated Delivery Date: Late March 2013
Limited Edition of 800 Dolls
This package includes 3 individual dolls: Cruz, Holland and TJ
The Gang is off to England for a winter holiday! Whether they visit Big Ben and Buckingham Palace or hit the London nightclubs, when these guys and gals cross the pond it'll be Dynamite!
Product Details
Cruz makes the scene in a lime shirt with navy collar and cuffs, orange striped sweater vest, and royal blue suit jacket and trousers. He completes the look with a gray knit scarf and gray and blue spectator shoes. He's ready to party!
Holland is stylish in her gray and green wool and leather jacket, orange and pink jacquard jumper dress, orange turtleneck, pink tights and boots with faux fur trim. This new girl in town is very fashion forward.
TJ
is making heads turn in her winter white jacket with black faux fur trimmed hood, lime shirt, pink V-neck sweater, blue jacquard skirt, pink lace tights, and black boots. This gal is all about style!

A doll stand is included. For adult collectors 14 years and up.